Shopping - The fashion accessories walk
Shopping
at Mons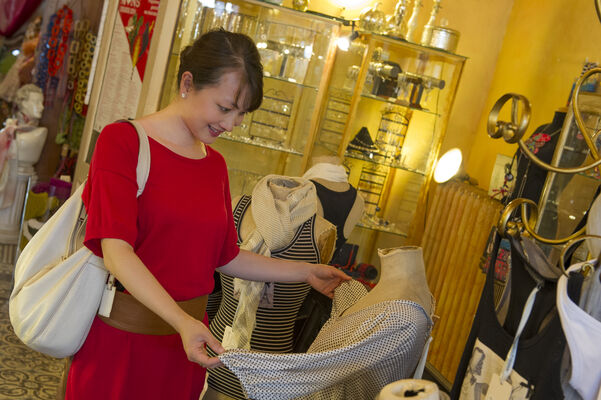 visitMons - Grégory Mathelot
Take this shopping tour and you will certainly find accessory ideas to treat yourself and even your faithful four-legged friend!

For birthdays, anniversaries or simply the pleasure of giving or treating yourself, the city that is home to the Doudou Festival conceals unique and uncommon gifts.
Whether you are looking for decorative items, textiles, jewellery, flower arrangements, handicrafts, items for children or artworks, you are certain to find something to suit every taste and budget.

Difference in height

76.72 m

Documentation

GPX / KML files allow you to export the trail of your hike to your GPS (or other navigation tool)
Points of interest
Sac "nuage" de Marieke Jacobs, créatrice des Pays-Bas, en cuir, diverses couleurs disponibles
Go to number 32 Rue des Fripiers, where you will find Baroc selling fashion accessories of all types. Silver jewellery is one of the shop's main lines, but it also offers costume jewellery, natural perfumes, small decorative items and an extensive range of scarves and hats. Most of the items are made by craftsmen designers, though young designers also feature. Baroc's shop is a typical Mons building dating from the 19th century which retains all the charm of that era. Continue for a few metres to number 17.
Go to number 56 Rue d'Havré, where you will find J.C. Feron jewellers stocking an extensive selection of rings, earrings, bracelets, chains, necklaces and pendants to suit all tastes and budgets. The shop can also alter, repair and service contemporary and antique jewellery, watches and clocks, of all makes. Do you have gold that you no longer want? Make an appointment for a free, straightforward estimate with no obligation! Go back up the Rue d'Havré to the Grand-Place. Then turn first left into the Rue de la Coupe.
Go to number 40 Rue des Capucins where you will find Cache-Mire. In this long-established Mons shop, with its authentic 1930s furniture and a façade included in the list of "Mons heritage sites", the proprietor offers a range of jewellery and accessories from designers, many of whom feature in world famous museum shops. Now turn right and continue straight ahead to number 43.
Montures "Mons" de la marque Etnia Barcelona. Disponibles en divers coloris.
Go to number 6 Rue de la Coupe, where Apparat'Chik offers a wide range of accessories and leather goods, from both international brand names and young designers. The location, just a stone's throw from the Grand-Place, is ideal for fashion conscious men and women who wish to purchase their accessories from a collection of bags, luggage, hats, accessories and other delights. All with sound advice from accessories expert Viviane to help you make your choice. Now take the Rue des Fripiers. After several months of renovation work, this area in the heart of the historic centre of Mons has been given a new lease of life.
Chaussures en cuir Dr. Martens. Diverses couleurs disponibles. Le magasin est dealer officiel depuis plus de 30 ans.
9
Institut Marylor pet grooming
Go to number 119 Rue d'Havré, where you will find the Marylor well-being and grooming institute for dogs and cats. Are you looking to spoil your faithful 4-legged friend? Here you will find a shop with a wide selection of original accessories and clothing brands not found anywhere else in the region. Our friends are also fashion conscious! Go back up the Rue d'Havré on the right.
77 meters of difference in height

Start altitude :

49 m

End altitude :

49 m

Maximum altitude :

68 m

Minimum altitude :

35 m

Total positive elevation :

77 m

Total negative elevation :

-77 m

Max positive elevation :

14 m

Min positive elevation :

-13 m