Quevy, a Misunderstood Land
at Quévy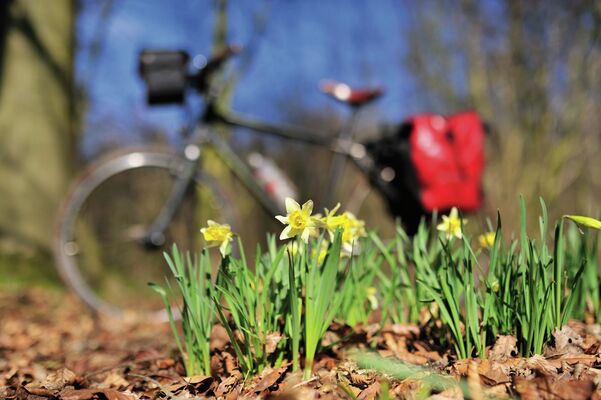 Despite Quévy being so close to Mons, time seems to have stood still in this eternally charming place.

The first few kilometres of this route snatch you into highly attractive countryside, with its long red brick farmhouses. Here they're in harmony with the area's soothing, calm side. You'll be cycling with a smile on your lips as far as Aulnois. Hedges and groves still dot Quévy. The farms and streams you continuously cycle past will make you yearn after the next hamlet; you'll be carried away by small roads that offer new scenery at each turn. It will change radically when you enter the Sars-la-Bruyère woods. Luckily, you're riding and yellow spots dot the ground. Daffodils herald nature awakening. From Genly to Bougnies, the sun is already warming the atmosphere. At which point you'll want to drop your bike and give yourself a nap in the middle of the field. It will be a well-deserved rest after this 30km ride through a little-known but interesting region.

Difference in height

202.23 m

Documentation

GPX / KML files allow you to export the trail of your hike to your GPS (or other navigation tool)
Points of interest
Moneuse the bandit (see ride 10) was arrested at Quévy-le-Petit. Tried and sentenced without overwhelming evidence after a botched investigation, Moneuse, who would always plead his innocence, was guillotined on the Place de Douai on 18 June 1798. Moneuse remains rooted in popular culture of the Hauts-Pays as evidenced by the festival at Beria in Quévy. The character still fascinates, between the image of a lawless robber and poor innocent sod.
2
Sars-la-Bruyère and Colfontaine woods
This is one of the green lungs of the region. The wide paths are wonderful for cycling. And in the spring, daffodils carpet the woods. Moneuse is believed to have committed the Cense Populaire attack on 3 December 1795 (in the village of Colfontaine).
The native village of Louis Pierard a great writer and journalist. He wrote the biography of Vincent van Gogh. The outdoor theatre and the first Belgian youth hostel were erected on his initiative in his late 1930s.
202 meters of difference in height

Start altitude :

104 m

End altitude :

104 m

Maximum altitude :

156 m

Minimum altitude :

76 m

Total positive elevation :

202 m

Total negative elevation :

-202 m

Max positive elevation :

17 m

Min positive elevation :

-35 m