L' Art habite la Ville (Art lives in the city)
Touring cyclist , Walking/pedestrian
at Mons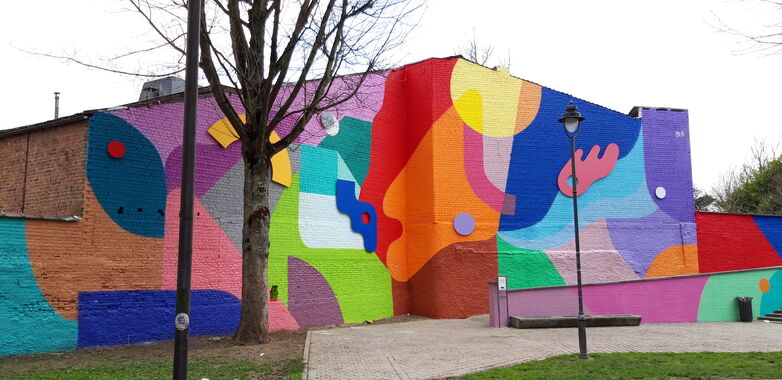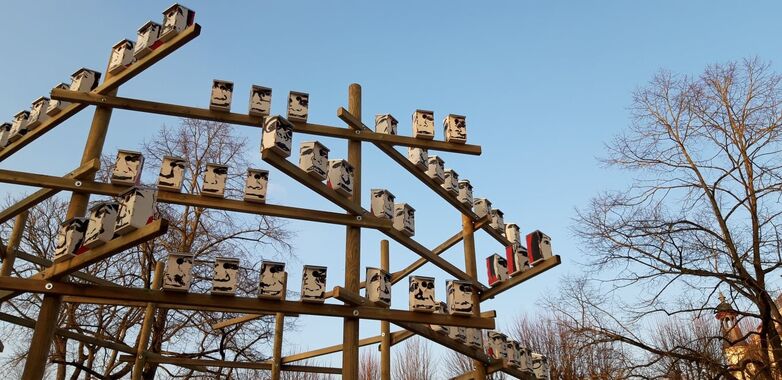 Discover also:

"Mobilier urbain revisité"
In the city centre

In collaboration with graphic arts schools in the region, urban furniture elements were decorated for the project. Across the city, tightrope walkers will balance between two posts, and ORES and PROXIMUS terminals will burst with colours.

Pierre Liebaert - "Je crois aux nuits"
From May 2019

Pierre Liebaert, a young photographer from Mons who regularly exhibits in museums and festivals, has produced four photographs about folklore related to the renewal of the body and nature.

Difference in height

91.79 m

Documentation

GPX / KML files allow you to export the trail of your hike to your GPS (or other navigation tool)
Points of interest
1
Blancbec - "Le Monstrueux"
Façade of the restaurant « Les Gribaumonts », Rue d'Havré, 95
Mural fresco

Project: Working with his neighbours, BlancBec gives new life to this wall where imaginary animals and plants cross paths.
After spending 10 years in the graffiti movement under the pseudonym VEKS, at the start of 2000, Blancbec took a new approach to his work.
He developed his first paintings, furnished with geometric writings inspired by graffiti. In Barcelona in 2002, he discovered the work of posters painted by hand and glued, a revelation.
This technique attracted him because he could combine workshop activity with an urban activity. He embraced it! The geometric writings of the beginning gradually became characters. Then the bird appeared. Provisionally, the canvases were put aside to make place for paper. At the beginning of 2003, the first bird posters appeared on the walls of the city; they were the first of their kind in Brussels. The bird and the artist call themselves "Blancbec" chosen for the lack of experience of the artist and the self-assurance of his bird.
His own geometric construction and his vibrant chromatic range created a style that was instantly recognisable. Since then, some audacious protagonists have integrated his universe that he still represents through new supports and techniques. The artist Blancbec exhibits regularly and his works always appear in an urban setting.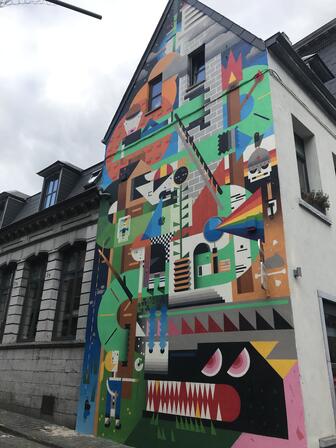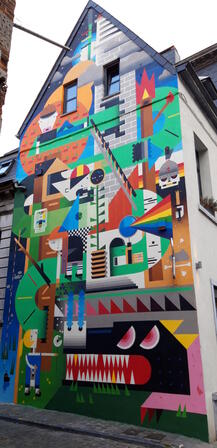 Project: coloured frescoes decorated with relief elements - a first worldwide.

Oli-B is an artist from Brussels, known for his colourful works that are full of life. Starting from abstract and figurative forms in vibrant colours, Oli-B traces the limits of his exceptional universe, where onirism mixes with harmony and hope. Each piece writes his story and reveals new aspects. His works are driven by a desire for balance. When he crosses this line, he deploys his ideal and optimistic vision of the world, in opposition to the realistic image tinged with bitterness, that he sometimes feels. Oli-B enjoys the hustle and bustle of large towns and their crowds and uses the public spaces as his playground.
3
Cix et Duek - " Eldorado
Quartier des Capucins
Mural Fresco

Project: In collaboration with Lille 3000 and for their Eldorado season (from 27/04 to 01/12/2019), the Mexican artists Cix and Duek created a coloured fresco in the Capucins area of Mons.
4
Lucie et les Papillons - David Mesguich
David Mesguich deals with the notions of space, borders and separation through monumental sculptures. He produced a monumental sculpture, symbolising the first time you feel butterflies in your stomach. The scissors broken, the little girl is free to feel what she wants
5
Laurence Vray - " Instant suspendu"
Etude du Notaire Franeau, Rue d'Enghien 19
Photography

Photographer, Laurence Vray brings an "intimate" sensitivity - far from the gloss of fashion. She proceeds, with as much rigour as restraint, to reveal a possible intimacy with the world. The lightness of her view is serious and the seriousness of her views is light. So, through a paradox which she took pains to keep secret, she composed with diligent simplicity: a work of art for peace. Laurence, an artist from Mons, captures intimacy and lightness and conveys it to us. Laurence Vray dedicated her first photographic series to "photographic reporting" during her trips to Morocco, India, Cuba and Nepal. The inhabitants of these regions, their artisans, their clerics... become the actors of this sublimation. Not forgetting her country and her native region, she created the series La Glace Passe in 2002. These black and white photographs, in the purest tradition of street photography, are a tribute to a region that is particularly dear to the artist. More than a simple capture of reality, the photographer embarks on a reflection on the world around her by using photography to put her ideas on paper. She also reflects on the notion of "time". These photos, with indescribable strength, are an ode to human beings and to their fragility, as well as a reflection on solitude. Extending this reflection on time, the artist began to play with the photographic medium and decided to go back to her origins by using the pinhole technique. At this point, humans are excluded from the photos, which return to silent and unchanging nature, evoking the essence of photography. These images, flowing poetically, lead us to dream and return to childhood.
Today, like going back in time, a return to the first place, Laurence Vray is working on the theme of water and mother waters. A truly silent swim, this series offers a solitary parenthesis exploring the resonance of water, its currents and its flow. The photographer plays on the opposition between presence and absence, solitude and company, femininity and masculinity, fragility and inalterability of this original element. The focus is also on the mother waters, where time it is not yet linear, where light still plays shadows between
the uterine walls, where life is a pure loving relationship...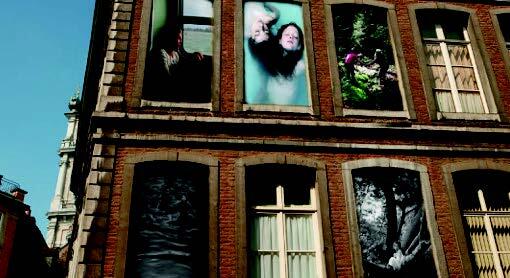 6
Noir Artist - "Don't sleep on your dream"
Façade du Delhaize - Rue de Nimy 117-121
Mural fresco

Project: NOIR Artist will bring a touch of surrealism to the project

NOIR Artist is a Belgian plastic artist and mural painter from Liège, trained at Saint-Luc Liège. He creates paintings as well as mural frescoes in almost all formats
and all types of support. But always in shades of black ('NOIR'). Or almost, since colour and gold now also have their place in his universe. Paintings, drawings, monumental frescoes, mural art, trompe l'oeil, urban decoration and design, this work "in black" does not leave people indifferent. Inspired by publicity, pop art, baroque art or calligraphy, NOIR Artist gracefully enumerates his hyper-realistic pictorial obsessions and his more abstract musings.

7
Olivier Sonck - "Ivre d'histoires"
GRAPHICO-LITERARY FRESCO
OUTDOORS COMPOUND OF THE MONS PENITENTIARY CENTRE
Rue des Barbellés

Project: Olivier Sonck has created a series of workshops about childhood memories, in two
phases: first with twenty detainees (ten men and ten women) and then with the neighbours of the penitentiary centre (residents, students, workers, etc). The result?
A literary fresco full of authenticity and poetry, painted on the exterior wall of the penitentiary centre. It will evolve over time and according to the weather conditions.
Olivier Sonck is a Belgian artist linked to Mons by his studies at Arts2. Since finishing his studies in Visual Arts, he has been working in engraving
and silk-screen printing as well as teaching in several schools.

What has been his passion for the last few years? Words.
"I'm interested in their meaning, in the way people pronounce them wrongly and in the final result
after passing through distracted ears. I make objects of them, often printed, marked on cold materials such as metal, inert like lead, shiny like copper but also warmer ones and (sometimes) comforting like wood."
8
Blanc Murmure - " La ville dans la ville"
Place du Parc
Participatory project

Project: 160 real birdhouses with images of neighbours are installed in
the Place du Parc in this work symbolising family and
solidarity.

BLANC MURMURE asbl is a Centre d'Expression et de Créativité (C.E.C.) (Centre for Expression and Creativity) recognised by the Fédération Wallonie-Bruxelles since its creation. Their project is to initiate a varied public in contemporary art and creation through different artistic techniques. Children, adults, youths, education professionals, people in social rehabilitation, handicapped people, seniors, everyone can become a creator and an actor in an artistic approach. They propose societal themes, a true thread between their artistic experiences. Diverse techniques are made available to the public as a means of expression for their creative inspiration: illustration and fictional writing, sculpture and installation in urban spaces, video and cinema animation, image creation through photography.
"L'art habite la ville", 160 inhabitants, children and adults, played the game; they participated in the creation of the birdhouse village. They were photographed and then reproduced their faces on the birdhouses that were prefabricated for the occasion. A new utopian area was born in the centre of the "Place du Parc for a period of two years. This participatory piece of work reflects a shared creative moment.
A portrait Gallery which attempts the eventuality of cohabitation, possible or impossible, between birds and men. The CEC Blanc Murmure in collaboration with the Institut du Sacré-Cœur, the local school "Les arquebusiers", the school of the future, Impulso
92 meters of difference in height

Start altitude :

53 m

End altitude :

50 m

Maximum altitude :

68 m

Minimum altitude :

30 m

Total positive elevation :

92 m

Total negative elevation :

-94 m

Max positive elevation :

24 m

Min positive elevation :

-13 m