Honnelles - In the Footsteps of a Poet
Touring cyclist
at Honnelles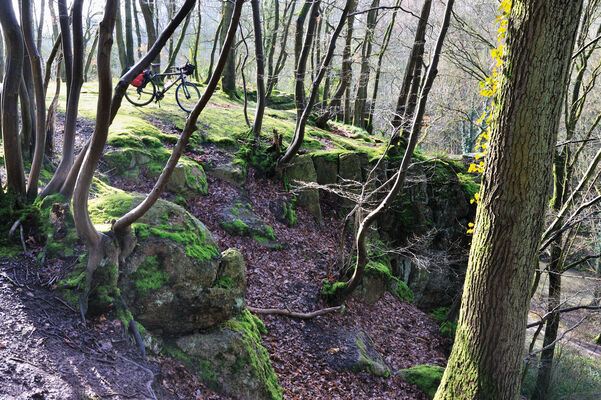 Pierre Pauquay
The poet Emile Verhaeren liked relaxing in the Hauts-Pays, a bucolic land which is very pleasant for walking or cycling.

To the southwest of Mons is a rural area that opens its heart to whoever cycles across it: welcome to the Hauts-Pays! The gentle terrain and peacefulness of this sparsely populated region bring serenity. Departure in Audregnies and its beautiful square where the road joins the RAVeL, which is interrupted shortly after Onnezies. Here a more forested track begins, towards Caillou-qui-Bique. In summer, the path causes little problems but in winter the often muddy roads is a challenge to cyclists. Just after the Emile Verhaeren space, beautiful villages dot the route. Roisin, Meaurain and Autreppe are all names that sing of the Hauts-Pays, a little-known region but one with some magnificent romantic landscapes. From
Montignies¬sur-Roc, the narrow road joins the castle and the pond which are in harmony with the landscape. You will comb through groves and meadows, an idyllic picture of a country landscape where all is harmony and tranquility: an atmosphere that Verhaeren has so well described.

Difference in height

207.85 m

Documentation

GPX / KML files allow you to export the trail of your hike to your GPS (or other navigation tool)
Points of interest
And its pretty square which is the most wooded in Belgium.
A legendary rock where Emile Verhaeren liked walking.
3
L' Espace Muséal d'Emile Verhaeren
The museum provides an insight into this leading figure in the Symbolist movement. The poet was surrounded by artists and writers of the time; the space presents works by Signac and Seurat and the writings of Rodenbach or Verlaine.
4
The beautiful village of Montignies-Sur-Roc
A beautiful architectural complex with Château de la Motte, situated on the edge of Petite Honnelle.
208 meters of difference in height

Start altitude :

59 m

End altitude :

58 m

Maximum altitude :

106 m

Minimum altitude :

51 m

Total positive elevation :

208 m

Total negative elevation :

-209 m

Max positive elevation :

35 m

Min positive elevation :

-35 m
Pierre Pauquay