Quévy, le pays méconnu
at Quévy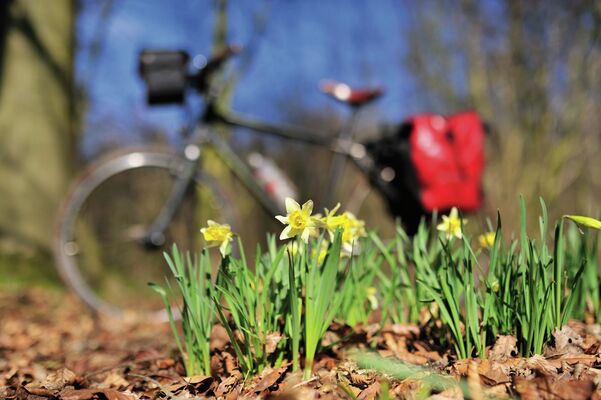 A Quévy, pourtant si proche de Mons, le temps semble ne pas avoir eu de prise sur cette région au charme immuable.

Dès les premiers kilomètres, les routes nous happent vers une campagne des plus attrayantes, avec ses longues fermes en brique rouge. Et elles sont ici en harmonie avec le côté apaisant et calme de la région. Nous roulons, le sourire aux lèvres jusque Aulnois. Des haies et des bosquets parsèment toujours le pays de Quévy. Les fermes et les ruisseaux qu'on longe nous donnent sans cesse l'envie de rejoindre le hameau suivant, tant nous nous laissons happer par les petites routes qui offrent, à chaque virage, un nouveau décor. Et il va changer radicalement quand nous entrons dans le bois de Sars-la-Bruyère. Par chance, nous roulons et des taches jaunes constellent la terre. Les jonquilles annoncent le réveil de la nature. De Genly à Bougnies, le soleil chauffe déjà l'atmosphère. A tel point que nous avons envie de déposer le vélo et de nous octroyer une sieste au milieu des champs : le repos du guerrier bien mérité après cette randonnée de 30 km, à travers une région méconnue mais attachante.

Difference in height

202.23 m

Documentation

GPX / KML files allow you to export the trail of your hike to your GPS (or other navigation tool)
Points of interest
1
L'arrestation de Moneuse
Le bandit Moneuse (voir à ce propos la balade 10) est arrêté à Quevy-le-Petit. Jugé et condamné sans preuve confondante après une instruction bâclée, Moneuse, qui plaidera toujours son innocence, est guillotiné sur la place de Douai, le 18 juin 1798. Moneuse reste ancré dans la culture populaire des Hauts-Pays comme en témoigne la fête à Béria à Quévy. Le personnage fascine toujours, entre l'image d'un brigand sans foi ni loi ou pauvre bougre innocent.
2
Le bois de Sars-la-Bruyère et de Colfontaine
Il est un des poumons verts de la région. Les grandes allées sont magnifiques à parcourir à vélo. Et au printemps, les jonquilles tapissent le sous-bois. Moneuse y aurait commis l'attaque de la Cense Populaire, le 3 décembre 1795 (au sein du village de Colfontaine).
Le village natif de Louis Piérard, grand écrivain et journaliste. Il écrira la biographie de Vincent van Gogh. Le théâtre de verdure et la première auberge de jeunesse de Belgique ont été érigés à son initiative fin des années 30.
202 meters of difference in height

Start altitude :

104 m

End altitude :

104 m

Maximum altitude :

156 m

Minimum altitude :

76 m

Total positive elevation :

202 m

Total negative elevation :

-202 m

Max positive elevation :

17 m

Min positive elevation :

-35 m
Leave a review about Quévy, Le Pays Méconnu :
Horrible

Bad

Average

Good

Excellent
There is no review about Quévy, Le Pays Méconnu, be the first to leave one !