Mons, Historical Heart
Architecture at Mons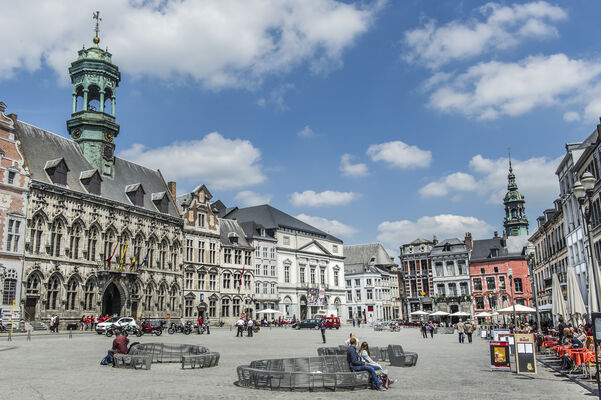 Beautiful Mons is at its most beautiful when you tackle it by bike!

When you go by bike through the large archway to enter the town hall courtyard, you feel immediately that this ride will be marked by a beautiful discovery. At every street corner, at every turn, Mons the city of art and history will unfold before you. The path joins the Grand Place and goes down rue de Nimy; by bike, you soon realise that the city was built on a promontory. Along the route, the streets seem to flit around its lighthouse (belfry). A little after having followed the Théâtre le Manège, you enter the intimacy of the city as you ride across Jardin Gustave Jacobs. At the exit alongside ruelle Rachot there is a completely different atmosphere: this is Mons. And seeing the children playing in the street immerses you in the photographic imagery of a certain Doisneau. From Place de la Grande Pêcherie to Place du Parc to Square Rossevelt, Mons is also clearly green. By cycling, the city will have bewitched you…

Difference in height

81.11 m

Documentation

GPX / KML files allow you to export the trail of your hike to your GPS (or other navigation tool)
Points of interest
A museum to discover! The Mons Fine Arts Museum (BAM) stands out in terms of approachability and environment. Going there is a museum experience like no other; it is a place of discovery where artistic creations in all their various forms rub shoulders. And it is alive with events all year long. This unashamedly contemporary architectural project combines the functionality and rigour required of museums with aestheticism, as its architecture showcases the bright, light-filled spaces dedicated to transparency.
L'Arsonic c'est deux espaces particuliers : la Chapelle du silence pour l'écoute intime et le Passage des rumeurs pour accueillir des expositions sonores.
Le Manège Mons Maubeuge est une scène transfrontalière proposant chaque année plus d'une centaine de spectacles, saison et festivals confondus.
Le Manège de Sury et un ancien couvent devenu école, des lieux reflets d'une « micro-cité » ou communauté idéale. Le complexe immobilier restauré et réaffecté deviendra, dès 2016, une pépinière d'entreprises innovatrices, un îlot urbain modèle pour la créativité d'un futur technologique marqué par la libre circulation de l'information.
Au sein de la structure du manège.mons, la Maison Folie conçoit son action sur la base d'une vision décloisonnée des pratiques artistiques, culturelles et associatives. Si la Maison Folie se définit comme un lieu hors normes tant par ses espaces -qui se métamorphosent continuellement- et leur esthétique de l'inachevé, que dans ses propositions artistiques et culturelles, c'est également un laboratoire, un lieu d'expérimentation culturelle et artistique pluridisciplinaire, où s'inventent de nouveaux rapports entre art et société. Aussi, le public ne vient pas seulement voir des spectacles ou expositions, il est invité à participer au processus de création et à des moments artistiques qui échappent au format classique.
Venez découvrir un lieu d'histoire unique ! Musée, lieu de réflexions, espace de questionnement,… Autant de dénominations pour définir le Mons Memorial Museum ! Ce nouvel espace muséal invite les visiteurs de tous âges à s'interroger sur les réalités multiples et complexes des phénomènes guerriers. Une vaste exposition permanente confronte le public à l'histoire singulière de la ville de Mons ainsi qu'aux événements internationaux des deux guerres mondiales et des périodes qui les enserrent. À travers le destin d'hommes et de femmes témoins des événements, le visiteur est plongé dans le vécu quotidien des soldats et des civils en période de guerre. Ces témoignages forment le véritable fil conducteur de la visite et viennent donner vie aux objets présentés. Par ces lettres, carnets de note et interviews, c'est un regard sensible qui est jeté sur les événements traités dans le Mons Memorial Museum. Les objets exposés, sélectionnés parmi les 5000 que comptent les collections d'histoire militaire de la ville de Mons, posent une réflexion fondamentale sur les rapports entre population civile et militaire. Réflexion qui prend corps dans un parcours conduisant le visiteur du Moyen Âge, en passant par l'Ancien Régime, jusqu'aux deux guerres mondiales. Celle-ci peut se poursuivre dans la salle d'exposition temporaire qui propose régulièrement aux visiteurs un focus sur un sujet d'histoire militaire.
Créer ou développer son entreprise, certains en rêvent… d'autres le font ! Toutefois, transformer une idée en réalisation concrète n'est pas si simple. C'est la raison pour laquelle Maison du Design, agence de Progress, vous propose, depuis 2005, des conseils et un accompagnement dans les différentes phases clés de votre projet de création ou de développement d'entreprise. Maison du Design, c'est une équipe professionnelle qui vous propose un accompagnement basé sur une méthodologie créative capable de maximiser les chances de réussite de votre projet.
10
Former slaughter house
Un lieu de patrimoine pour l'art contemporain. Accessibles au public depuis 2006, les anciens Abattoirs accueillent des manifestations et expositions temporaires essentiellement consacrées à la création plastique contemporaine. L'édifice principal, la grand Halle, s'étend sur un seul niveau de 70 mètres de long sur 10 mètres de large. Les deux autres parties, l'étable et le frigo, abritent respectivement l'asbl World Craft Council Belgique Francophone dédiée aux arts appliqués et l'asbl Transcultures qui explore les champs de la création numérique et des arts sonores.
11
Musée François Duesberg
The chapel of the Couvent des Ursulines becomes the home of Mons' municipal heritage, showcasing the works of art and activities around them. Right at the heart of the Pôle Muséal, Artothèque is a venue dedicated to preserving, researching, restoring and studying our heritage, bringing together all the municipality's collections in one place! As well as its commitment to conservation, the Artothèque plays also a significant role in the promotion of Mons' heritage by making it accessible virtually thanks to the virtual Artothèque, as well as by revealing the behind-the-scenes work that goes on in museums.
13
Museum Régional des Sciences Naturelles
Le Museum Régional des Sciences Naturelles se présente aujourd'hui comme un musée didactique où l'enseignement maternel, primaire et secondaire pourra trouver une intéressante illustration des notions de sciences naturelles et de nature.
15
Collégiale Sainte-Waudru
The Belfry was included in UNESCO's prestigious World Heritage List in 1999. With its 87-meter high, it is the only baroque belfry in Belgium.
81 meters of difference in height

Start altitude :

58 m

End altitude :

58 m

Maximum altitude :

64 m

Minimum altitude :

33 m

Total positive elevation :

81 m

Total negative elevation :

-81 m

Max positive elevation :

21 m

Min positive elevation :

-16 m
Leave a review about Mons, Historical Heart :
Horrible

Bad

Average

Good

Excellent
There is no review about Mons, Historical Heart, be the first to leave one !