Mons, des artères vertes
at Mons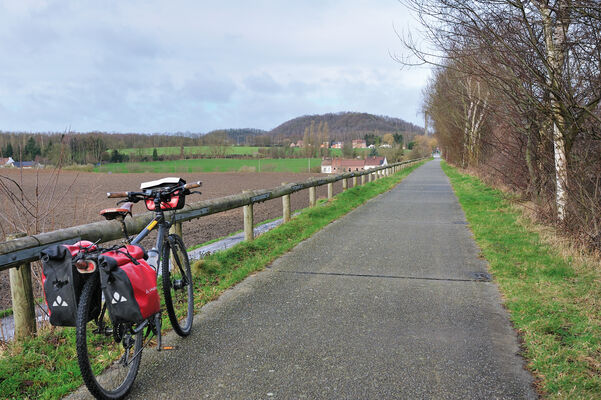 Rejoignons le MAC's en empruntant les anciennes lignes de chemin de fer, devenues des artères vertes, au cœur des anciens charbonnages.

Dégringolons de la Grand-Place pour rejoindre les faubourgs qui ceinturent la cité millénaire. Nos roues nous mènent au cœur du Borinage. Et les anciennes lignes de chemin de fer où transitait le charbon sont devenues de formidables échappées dans ce paysage urbanisé et marqué par ce passé industriel. De Cuesmes, nous allons longer la ligne 98 jusque Flénu où se situait un aiguillage menant vers Quiévrain. Nous passons à côté de la gare de Pâturages où un jeune homme a posé son sac, en 1878. Vincent Van Gogh restera presque deux dans le Borinage pour y trouver sa voie artistique… Poursuivons cette ligne qui, à l'époque se recouvrait de bruits et de fumées avec le charroi ininterrompu des trains transportant le charbon issu des sites miniers. Nous voilà enfin au Grand-Hornu, ce témoin du début de la Révolution Industrielle : un cadre d'exception, reconnu au Patrimoine Mondial de l'Unesco qui renferme Le MAC's Musée des Arts Contemporains et le CID Centre d'innovation et de design, un des pôles de la création artistique en Belgique.

Difference in height

210.32 m

Documentation

GPX / KML files allow you to export the trail of your hike to your GPS (or other navigation tool)
Points of interest
1
LeTerril du Mont de l'Héribu
Symbole des paysages miniers du Borinage, les terrils perdent aujourd'hui de leur austérité en se parant d'une rare diversité biologique. Celui de l'Héribu est devenu montagne de lumière verte. Le criquet et la machaon aiment dorer leurs ailes sur ces versants de noirs vêtus et idéalement exposés.
La voie verte se poursuit au delà de Colfontaine, vers Dour et s'interrompt à Quiévrain.
3
L'ancienne gare de Pâturages
Se situant sur le RAVeL, elle hébergea Vincent van Gogh quelques semaines avant qu'il ne trouve refuge à Wasmes.
Ce haut lieu du patrimoine a été établi sur le site du Grand-Hornu, ancien site du minier reconnu au patrimoine mondial de l'UNESCO.
Magnifique RAVeL où sont présentées, peu après le Grand-Hornu, des oeuvres artistiques créées par "Blanc Murmure" pour "Tomber Volontiers dans le Panneau", projet lauréat de Mons 2015.
Petit détour pour visiter la maison où vécut Vincent van Gogh, à Cuesmes.
210 meters of difference in height

Start altitude :

58 m

End altitude :

57 m

Maximum altitude :

77 m

Minimum altitude :

24 m

Total positive elevation :

210 m

Total negative elevation :

-211 m

Max positive elevation :

27 m

Min positive elevation :

-42 m
Leave a review about Mons, Des Artères Vertes :
Horrible

Bad

Average

Good

Excellent
There is no review about Mons, Des Artères Vertes, be the first to leave one !