Hell'O Enjoy the show...
Exhibition at Mons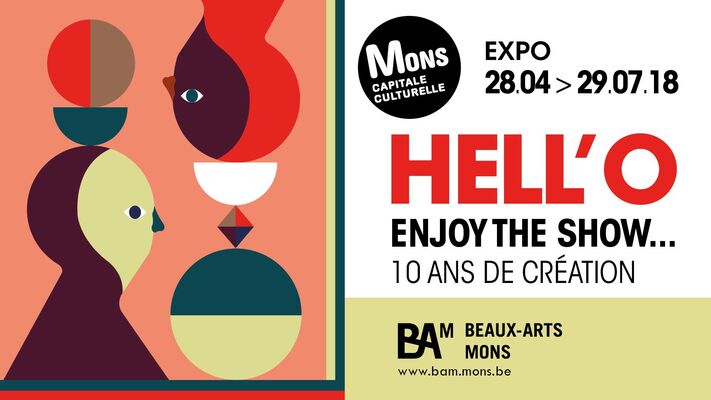 10 ans de création

Hell'O est un duo d'artistes belges qui réalise aussi bien des fresques murales que des peintures sur toile et des installations.

Leur univers graphique unique, complexe et ambigu s'enrichit et se développe au fur et à mesure des créations.

Par leur approche qui mêle une extrême liberté iconographique à une exécution rigoureuse, Jérôme Meynen et Antoine Detaille produisent un monde imaginaire fertile, parfois grotesque mais toujours poétique. Une sorte d'étrange bestiaire fantastique, peuplé d'animaux énigmatiques et de créatures vaguement humaines, asexuées, composé de formes et de symboles tirés de l'iconographie des contes, des fables et autres mythologies anciennes et contemporaines.

Utilisant une bonne dose d'humour et de moquerie, Hell'O bouscule les faiblesses humaines dans des compositions mêlant la réflexion métaphysique et le non-sens, mettant en valeur le mystère et l'interprétation libre du spectateur.

L'art de Hell'O réside dans le traitement d'idées parfois crues ou dures au moyen de formes douces et d'une esthétique léchée, ou, à l'inverse, d'aborder des thèmes légers avec un trait précis et méticuleux, oscillant continuellement entre attraction et répulsion, à la fois joyeux et macabre, amusant et effrayant, mièvre et rêveur, morbide et séduisant… Un art de la dualité.

Avec le temps, les formes se sont épurées, centrées sur l'essentiel, le noir et blanc a fait place à la couleur, d'abord discrète et pastel, ensuite plus franche et vive.

L'exposition du BAM présente leur 10 dernières années de création depuis leurs premiers dessins en noir et blanc jusqu'aux tableaux plus abstraits en couleur. De plus, le parcours plongera le visiteur en totale immersion au cœur d'œuvres du collectif créées in situ spécialement pour l'exposition. De nombreux collectionneurs privés, galeries ou institutions publiques belges et étrangères ont accepté de nous prêter leurs œuvres pour ce premier « état des lieux » de leur travail.

Lieu: BAM
From

April 28, 2018




until

July 29, 2018
Leave a review about Hell'o Enjoy The Show... :
Horrible

Bad

Average

Good

Excellent
There is no review about Hell'o Enjoy The Show..., be the first to leave one !