Verlaine au Secret
Mons 2015 , Cultural , Music , Music , Classical music , Contemporary music , Variety show music , Folk music (country) , Sacred music at Mons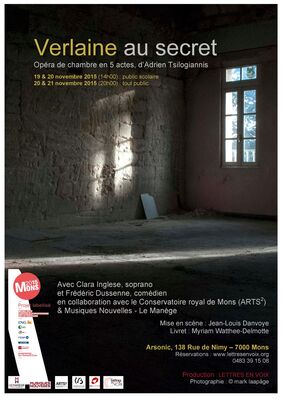 Opéra de chambre en 5 actes qui, au départ des poèmes de Verlaine, évoque son séjour en prison suite à l'altercation avec Rimbaud.

Verlaine, mis au secret derrière les murs de la prison de Mons et croyant avoir tout perdu, y perce le secret de son propre génie. S'opère alors une transfiguration par l'écriture. Or, ce trajet qui va du sentiment de la dépossession à la découverte d'un trésor jusque-là ignoré, chacun est susceptible de le vivre à des degrés divers dans sa propre existence: la privation peut être une chance, l'occasion d'un renouveau et d'une reconstruction de soi au plus près de la vérité intime. Cet opéra propose de suivre cette métamorphose intérieure. Le public s'immerge dans un univers de résonances littéraires et musicales qui s'éclairent mutuellement. Les textes de Verlaine, composés sous la contrainte de l'enfermement, permettent alors de voir un espace restreint se transformer en un lieu infiniment ouvert à la libération des voix.

Réservation indispensable àpd du 01.09

Avec Frédéric Dussenne, Clara Inglese, Muriel Legrand, Morgane Heyse, Dorothée Bolle, Logan Lopez Gonzalez, Malkiel Golomb, Lionel Couchard, Christophe Bornet, les étudiants en art dramatique et classe d'orchestre d'ARTS², accompagnés par l'Ensemble Musiques Nouvelles / Direction : Quentin Mourier / Livret : Myriam Watthee-Delmotte / Mise en scène : Jean-Louis Danvoye.
Coproduction : Fondation Mons 2015 – UCL-CULTURE – Plateforme UCL-Mons 2015 – ARTS² – Le Manège.Mons/Musiques Nouvelles – Lettres en Voix.
Leave a review about Verlaine Au Secret :
Horrible

Bad

Average

Good

Excellent
There is no review about Verlaine Au Secret, be the first to leave one !