The Cavalcade de Jemappes – Traditional Festival in Jemappes
Traditional / folk festival
at Jemappes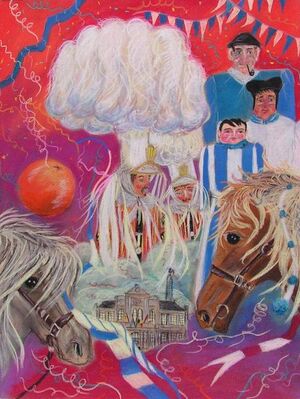 Marvel at all the "Sociétés de Gilles", the first of whom can trace their roots back to the beginning of the 20th century, at the Cavalcade de Jemappes.
From 20 April to 22 April 2014, in the centre of Jemappes, witness theCavalcade de Jemappes. Marvel at the "Gilles", the procession and the majorettes … and much much more.
The origins of theCavalcade de Jemappesdate back to the 19th century. On 30 March 1862, a traditional procession was started on the initiative of the Société Saint-Eloi.
The purpose of the event was to raise money to help the town's poor. For many years, this philanthropic goal has motivated everyone who has taken part.
The procession was simply made up of floats representing different local activities.
Over time, the procession lost its religious access, and became a real festive parade.
The first "Société de Gilles" was started at the beginning of the 20th century, and various musical societies began to take part in the event.
After that, other societies joined the procession, as well as marching bands and majorettes.
In 2006, the Cavalcade de Jemappes celebrated its 100th anniversary.
Would you like to experience a tradition that is 2 centuries old? Then come to the Cavalcade de Jemappes!
From

April 21, 2019




until

April 23, 2019