Salon Fitness, Bodybuilding & Sports de Combat
Fair or trade show at Mons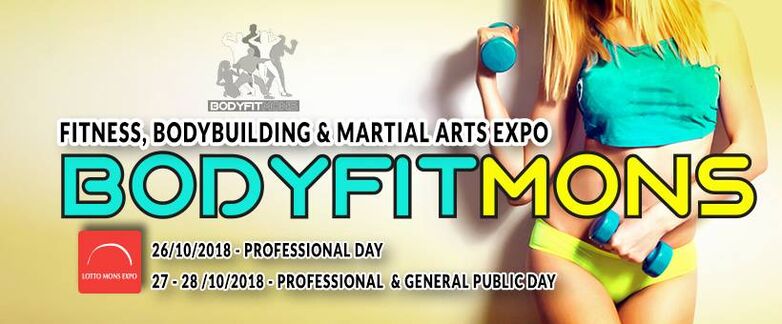 Le salon BodyFit-Mons® est destiné aux professionnels et amateurs de fitness, de bodybuilding et des sports de combat au Lotto Mons Expo.
Cet événement permettra de découvrir les innovations en termes d'équipements, les nouveautés techniques et pratiques en matière de fitness et de culturisme ainsi que les dernières tendances en matière de sportswear et d'alimentation sportive.
BodyFit-Mons englobera plusieurs événements :

1. Le premier jour du salon est réservé aux professionnels. Les professionnels des sports, de la santé sportive, du bien-être et de la nutrition auront de multiples stands à visiter. Le 26 octobre sera une journée de rencontre entre professionnels.
2. Les 27 et 28 octobre seront ouverts à tous. Les stands des différents exposants permettront aux professionnels et aux particulier de s'informer et éventuellement d'acquérir matériels, équipements, conseils et formations pour un enrichissement de leur passion ou de leurs métiers.
3. Des conférences organisées par les professionnels sur des différents thèmes d'actualité pour vivre mieux de vos métiers ou votre passion.
4. Les nombreuses conventions et les formations seront présentées par des professionnels du fitness tel que Radical Fitness Europe® et Zumba Fitness® durant 3 jours. Belle opportunité pour les pratiquants de sport et sportifs amateurs de participer et se former aux nouvelles tendances du secteur.
5. Zumba® Master Class avec Hermann Melo mondialement connu dans l'univers Zumba® et Elodie Armahanian.
6. Un tournoi organisé par la BMMAF (Belgian Mixed Martial Arts Federation) membre de la fédération internationale de MMA, l'IMMAF depuis 2014.
7. Le championnat de Belgique de Bodybuilding toutes catégories est organisé conjointement au salon. Ce championnat officiel organisé par la branche belge de la Fédération Internationale de Fitness et de Bodybuilding (BIFBB) se tiendra pour la première fois à Mons. L'IFBB dont le siège est établi à Madrid, est l'organe international officiel qui gouverne la pratique du culturisme et du fitness et qui supervise de nombreux événements internationaux, notamment les championnats du monde et continentaux.
8. Présentation Njoya League – programme de conditionnement physique de haute intensité, un sport de challenge avec des variétés de WOD différents.
From

October 27, 2018




until

October 28, 2018
Leave a review about Salon Fitness, Bodybuilding & Sports De Combat :
Horrible

Bad

Average

Good

Excellent
There is no review about Salon Fitness, Bodybuilding & Sports De Combat, be the first to leave one !