Kermesse à Bouboule
Event, festivity at Hornu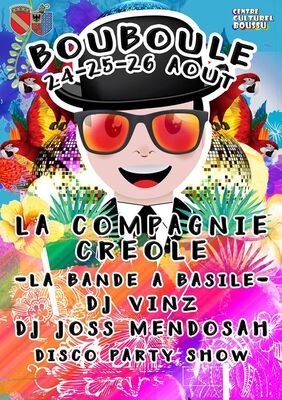 Fêtez la fin de l'été, en mode « Chemises colorées et Cocotiers », à l'occasion de la Kermesse à Bouboule, les 24-25 et 26 août prochains, dans le centre d'Hornu.

Bouboule est prêt. Vêtu de son traditionnel costume et de son légendaire chapeau boule. Il vous donne rendez-vous, le dernier week-end du mois d'août, en plein cœur de la Cité hornutoise.

La Bande à Basile, Vinz (Fun radio), DJ Joss Mendosah et le Disco Party Show sont au programme. C'est la Compagnie Créole qui nous fait l'honneur d'être la tête d'affiche, le dimanche 26 août. Nul doute qu'ils apporteront le soleil d'Outre-mer avant que notre Célèbre Bouboule ne parte en flammes.

Voici le programme complet :

Vendredi 24 août

18h : Ouverture de la Brocante nocturne.

18h30 : Vernissage de l'exposition intitulée : «Rétrospective Bouboule 2012-2017 ».

19h : Tania Ice

Originaire de Boussu-Bois, elle a démontré toute l'étendue de son talent lors de l'émission de « The Voice ».

20h30 : Golden Cover Rock

Cover Band créé en 2013 qui interprète des reprises de rock, pop et des tubes d'aujourd'hui. Ambiance assurée.

22h30 : DJ Antoine V & DJ Mendez

Nos DJ locaux jouent à domicile.

23h30 : DJ Joos Mendosah.

DJ international qui a eu le privilège de faire l'avant-première de Rihanna.

Samedi 25 août

14h30 : Mimuzik Festival (Musique Country)

18h45 : Dahlia chante Dalida

20h : La Bande à Basile

Venez faire la fête avec ce groupe mythique aux nombreux tubes, dont « La Chenille », vendu à 2.000.000 d'exemplaires.

21h15 : Disco Party Show

Cover Band grâce auquel vous reprendrez en chœur les titres des Bee Gees, Cool and the Gang, Donna Summer et tant d'autres encore.

23h : Dj Vinz

DJ/Producer devenu incontournable sur la scène belge. Célèbre animateur radio en Belgique et en France, sur les ondes de Fun Radio.

Dimanche 26 août

12h30 : Repas sur la Place d'Hornu.

Moules Frites ou Boulettes de Bouboule Frites.

Réservations : fetes@boussu.be – 065/71.73.92.

13h : David Michel chante Aznavour

14h15 : Osmose (variété française)

16h30 : Les Ménestrels chantent France Gall & Michel Berger

17h45 : Gitanos De Las Islas

Ambiance Gipsy Kings.

19h15 : Brazileiros

Groupe mythique disco-latino qui reprend des tubes « Rythmo tropical ».

20h30 : Compagnie Créole

Célèbre groupe des années 80 avec leurs tubes : « C'est bon pour le moral, Ça fait rire les oiseaux, Vive Le Douanier Rousseau », etc.

21h45 : Brûlage de Bouboule, suivi du feu d'artifice.
From

August 24, 2018




until

August 26, 2018
Leave a review about Kermesse À Bouboule :
Horrible

Bad

Average

Good

Excellent
There is no review about Kermesse À Bouboule, be the first to leave one !