Golgota
Municipalities and partner institutions , Cultural , Circus , Dance , Music , Theatre at Valenciennes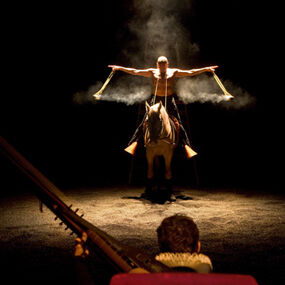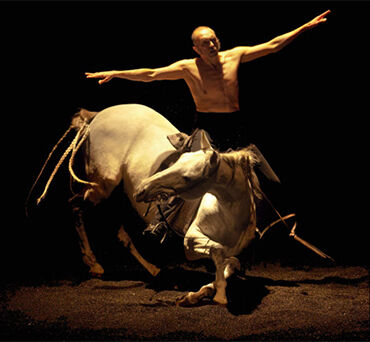 Le légendaire cavalier Bartabas réinterprète ici les processions de la Semaine Sainte de Séville. À ses côtés, l'étoile du flamenco Andrés Marín déploie l'immensité de son talent. Au ballet majestueux des chevaux répondent les muscles frémissants du danseur. Ensemble, ils nous transportent dans l'Espagne du Siècle d'or. Un chef d'oeuvre digne d'un tableau de Zurbaràn.

Le Golgotha est une colline de sinistre mémoire : les Romains y crucifiaient les condamnés. C'est sur ce mont que le Christ périt, après avoir porté sa croix. Chaque année, ce Calvaire et la résurrection sont commémorés en Andalousie, terre catholique s'il en est. Huit jours durant, près de soixante processions et autant de confréries parcourent la ville. Que l'on ait la foi ou pas, cette communion mystique bouleverse. Le célèbre cavalier Bartabas retranscrit cette fièvre avec délicatesse. Pour ce faire, l'amoureux des chevaux peut compter sur le talent d'Andrés Marín, figure du flamenco moderne. Cambré et chaussé de sabots, le fier andalou, avance solennellement, arborant une longue coiffe tel un pénitent. Parfois immobile, jouant des jambes comme des doigts, recouverts de pointes métalliques, il peut demeurer silencieux ou se ruer, se cabrer et chanter d'une voix profonde. Les compositions de Tomás Luis de Victoria (célèbre polyphoniste de la Renaissance espagnole) et un éclairage jouant avec les ombres confèrent à l'ensemble une belle étrangeté, un caractère quasi pictural.
Standard rate - adult full price

40 €

From 9 € to 35 €
Leave a review about Golgota :
Horrible

Bad

Average

Good

Excellent
There is no review about Golgota, be the first to leave one !