Cuisine d'hiver - Finis ton assiette
Show at Mons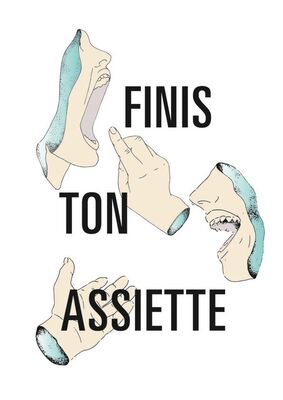 Cuisine d'hiver
Un vent glacial s'engouffre dans les rues, des odeurs de vin chaud et de marrons parfument le marché de Noël de la Grand Place, les estivales salades ont laissé place à des recettes plus chaleureuses ... Nous y voilà, l'hiver s'est doucement invité à Mons et rassemble les familles autour du feu crépitant pendant que les vitrines s'emplissent de cadeaux sous les yeux émerveillés de tous. Tel un hommage à la transmission et au partage en cuisine, la programmation du festival Cuisine d'Hiver est construite à la manière d'une grand-mère qui
apprendrait à ses petits-enfants à cuisiner, narrant ses souvenirs d'enfance, au coin du four, sous une odeur de chocolat, de pommes rôties et de cannelle. Une kermesse gourmande ou des spectacles hilarants et cyniques vous aideront à digérer vos obsessions alimentaires, qu'elles soient sociétales ou plus enfantines. Avant chaque spectacle, délectez vous d'un avant-goût : conférences, tables rondes et dégustations commentées viendront titiller vos esprits tout en aiguisant vos appétits. Traversez l'Atlantique, à la découverte des saveurs du Québec, en l'honneur des soldats canadiens qui ont libéré la ville de Mons il y a 100 ans. Goûtez aux saveurs d'hiver des autres Capitales européennes de la Culture.

Le spectacle hilarant Finis ton assiette !, tout juste sorti d'une semaine de résidence au Théâtre le Manège (Mars – Mons arts de la scène), poursuit nos obsessions alimentaires mais en modifie le point de vue. Cette expérience audio-sensuelle et participative vous emmène à un banquet où des questions de langage et de pratique seront remises sur la table ! Pourquoi le peuple réclame-t-il toujours du pain et non pas de la brioche ? Pourquoi qualifions-nous la chanson populaire de -soupe- ? Qui porte le toast de qui ? Qui a croqué dans la madeleine de Proust ? Est-ce le rince-doigt qui fait les mains propres ? Sauvera-t-on la planète avec des logos en forme de pomme ? En bref, de quoi manger est-il le nom ? Quand déguster, rire et réfléchir font bon ménage. Après cette expérience audio-sensuelle et participative, la Compagnie Thank You For Coming vous invitera à débattre autour des habitudes alimentaires et du savoir manger.
Schedules

On

December 17, 2018

at 20:00
Leave a review about Cuisine D'hiver - Finis Ton Assiette :
Horrible

Bad

Average

Good

Excellent
There is no review about Cuisine D'hiver - Finis Ton Assiette, be the first to leave one !