L'Homme Armé – Messe pour la paix
Show at Mons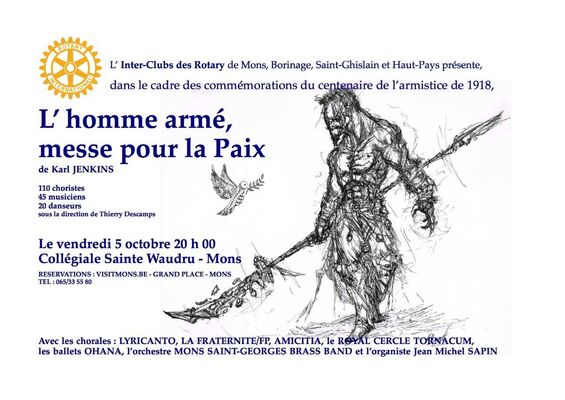 L'inter-Clubs des Rotary de la région vous invite à un concert exceptionnel !

Le choix de l'oeuvre correspond à l'actualité des commémorations du centenaire de la fin du premier conflit mondial et se veut un message pour la paix.

"L'homme armé, une messe pour la Paix", composée en 1999 par Karl Jenkins était initialement dédiée aux victimes de la crise du Kosovo. Elle exprime la montée de la peur, la construction d'un conflit et l'avènement d'espoir pour un avenir pacifique.

Cette œuvre atteint l'universalité par un choix de textes de diverses époques, de divers pays et de diverses religions. Elle est structurée par les éléments traditionnels de l'ordinaire de la messe latine.

Les chants incluent des textes d'origine Islamique (l'appel à la prière), Biblique (des psaumes), Chrétienne (l'ordinaire de la Messe) mais aussi des textes de Rudyard Kipling, d'Alfred Lord Tennyson ou encore d'un survivant d'Hiroshima

La musique est très efficace en ce sens qu'elle joue sur les émotions.

L'œuvre est une méditation priante chargée d'émotion au regard des guerres qui ont déchiré notre passé et surtout le XXème siècle, pour nous inciter à choisir la paix.

La musique est une musique d'atmosphère, une musique dynamique, accessible à un large public.

Pour interpréter cette œuvre, l'Inter-clubs a fait appel à des artistes, amateurs ou professionnels représentant la tradition et la passion pour la musique dans notre région. Ils s'exprimeront dans un lieu hautement symbolique ; la Collégiale Ste Waudru.

Vraiment, un rendez-vous à ne pas manquer !
Schedules

On

October 5, 2018

at 20:00
Leave a review about L'Homme Armé – Messe Pour La Paix :
Horrible

Bad

Average

Good

Excellent
There is no review about L'Homme Armé – Messe Pour La Paix, be the first to leave one !