Burning (dans le cadre du Festival Demain)
Show at Mons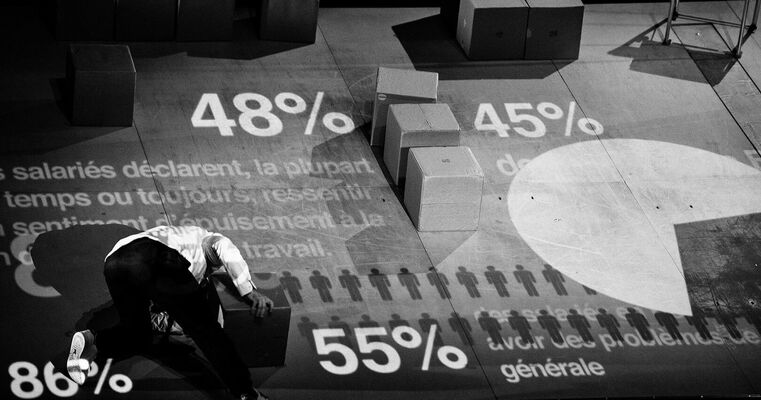 Burning
Je ne mourus pas et pourtant nulle vie ne demeura
L'Habeas Corpus Compagnie / Julien Fournier


Froid et instable, voici l'espace scénique transformé en métaphore d'un monde du travail insensible et aliénant

Pris au piège de l'espace scénique, un personnage évolue, contraint par son environnement. En prise avec un lieu où tout bascule, il tente d'aligner des cartons. En parallèle, la voix de Laurence Vielle égrène les mots d'une lente combustion intérieure : essoufflement, rythme sans répit, fragments de témoignages. Ici, le corps évolue en résonance avec les mots et l'acte acrobatique se fond au langage vidéo, dépeignant un monde du travail, du rendement, du capital et de la surconsommation malade où l'homme est devenu marchandise, où le sens est perdu.

Un spectacle de et par Julien Fournier. Texte en voix OFF écrit et interprété par Laurence Vielle. Création vidéo : Yannick Jacquet. Création sonore : Raphaël Dodemont. Création lumière : Arié Van Egmond. Conception maquettes et scénographie : Julien Fournier. Construction scénographie : Atelier Rododb. Régie lumière et vidéo : Emma Laroche. Régie son : Raphaël Dodemont / Antoine Delagoutte. Photos : Jeremy Javierre - www.jerj.be et Hubert Amiel. Diffusion : Fanny Mayné (MoDul).

Production L'Habeas Corpus Compagnie. Avec l'aide à la création du Ministère de la Culture de la Fédération Wallonie Bruxelles (Direction générale des arts de la scène, Service des arts du cirque)
Avec le soutien de l'Espace Périphérique (Mairie de Paris - Parc de la Villette) (FR), de la compagnie FERIA MUSICA (BE), du Centre culturel du Brabant wallon (BE), de la Roseraie (BE) et du Théâtre des Doms (FR).
Schedules

On

April 5, 2019

at 20:00
Leave a review about Burning (Dans Le Cadre Du Festival Demain) :
Horrible

Bad

Average

Good

Excellent
There is no review about Burning (Dans Le Cadre Du Festival Demain), be the first to leave one !