Michel Boujenah
Show at Mons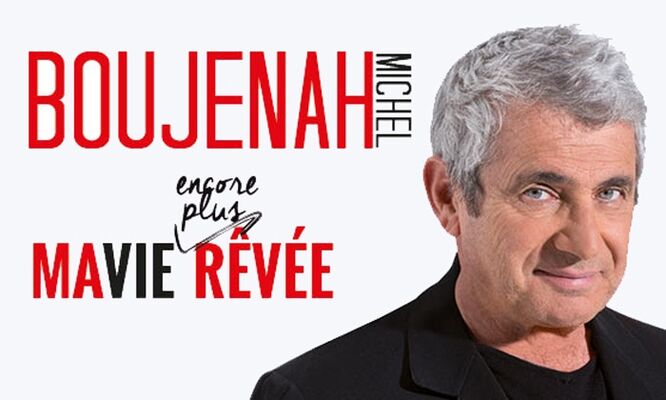 Michel Boujenah revient avec un nouveau spectacle, "Ma vie (encore plus) rêvée". Il viendra le présenter au Théâtre Royal de Mons le 25 janvier 2019. "Raconter ma vraie vie ne me plaisait pas et pourtant les confessions sont à la mode. Il y a même des gens qui écrivent leur mémoire à 25 ans. Les sportifs, les personnages de la télé réalité. Enfin tout le monde écrit sa vie. Mais raconter une vie que je n'ai pas eue me fascine plus encore. Alors je peux devenir un vrai héros… puisque j'invente ma vie et si je l'imagine cette vie que je n'ai pas vécue, alors tout est possible. Oui c'est vrai que le jour de ma naissance le soleil brillait comme jamais alors qu'il était 4H du matin. Oui c'est vrai que le matin de ma naissance des oiseaux se sont penchés sur mon berceau. Oui tout est possible quand on invente sa vie. A Tunis là ou je suis né, je vivais dans un palais et tous les soirs des femmes magnifiques me donnaient le bain avant de me demander si je voulais bien me coucher. Vous voyez, tout est possible (sauf que là c'est la vérité). Je peux rêver et refaire mon parcours; je peux faire de moi une personne meilleure. Mais au milieu peut-être que je glisserais des évènements véridiques. J'ai atteint 60 ans et beaucoup de mes proches me pressaient de faire un « Best of ». Je m'y refuse même si je pourrais à ma guise reprendre un extrait d'Albert ou de l'ange gardien ou de tout autre spectacle (hormis les magnifiques que je joue tous les 20 ans). Voilà j'ai toujours pensé qu'il était plus passionnant de rêver sa vie que de la vivre. Je vais le faire mais si tout cela n'était pas entouré de la plus grande dérision possible ce serait horrible. Alors on va rire, je ferai tout pour cela, puisque je me demande souvent si j'écris pour faire rire ou si je fais rire pour écrire. Qu'importe, si vous tous passez un beau moment rempli d'émotion. A très vite. Votre humble serviteur Michel Boujenah.
Schedules

On

January 25, 2019

at 20:00
Leave a review about Michel Boujenah :
Horrible

Bad

Average

Good

Excellent
There is no review about Michel Boujenah, be the first to leave one !