DEMAIN A COLFONTAINE
Show at Pâturages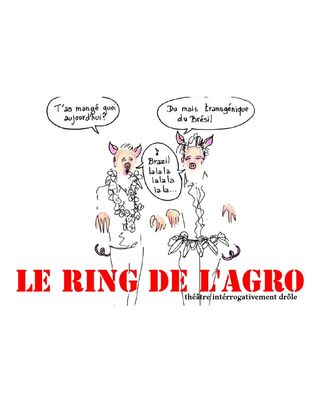 « Le ring de l'agro » – Cie Théâtre & Réconciliation
Spectacle musical, humoristique et décalé sur les enjeux de la sécurité alimentaire.
Un co-accueil du Centre culturel de Colfontaine et du Service des Arts de la Scène de la Province de Hainaut

Rind de l'agroLe ring oppose les agriculteurs du Nord, du Sud, les poulets d'ici et d'ailleurs, les pesticides, les « bio », l'industrie agro-alimentaire, la planète, le réchauffement climatique, le capitalisme, la libre circulation des marchandises, les petits poussins broyés, les sans-terre, les multinationales, le lait, les spermatozoïdes handicapés, la mal-bouffe, le trop dans nos assiettes, le trop-peu dans celles des autres, la faim, les guerres, ce qu'on mange, l'expropriation et l'esclavage.

Les Monthy Python de l'écologie vous feront rire dans un spectacle sur la souveraineté alimentaire.
Que faire : modifier les habitudes alimentaires ? Passer de l'industrialisation à outrance au tout-bio ? Entamer une grève de la faim illimitée en attendant qu'un monde inégalitaire et cruel s'écroule ?

Écriture et mise en scène : Frédérique Lecomte – Comédiens : Alexis Julémont et Jean-Philippe Pettiaux – Dramaturges : Ewout D'Hoore & Yves Wellens – scénographie et costumes : Christine Mobers.
Schedules

On

February 23, 2018

at 20:00
Leave a review about Demain A Colfontaine :
Horrible

Bad

Average

Good

Excellent
There is no review about Demain A Colfontaine, be the first to leave one !