Cuisine d'Hiver- Les ogres
Show at Mons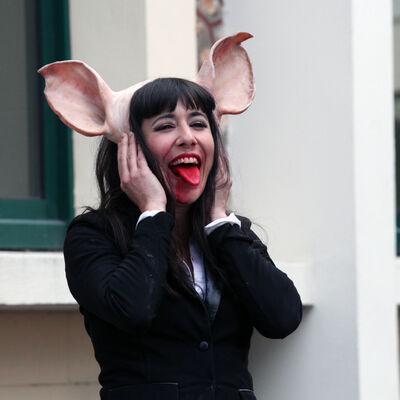 Cuisine d'hiver
Un vent glacial s'engouffre dans les rues, des odeurs de vin chaud et de marrons parfument le marché de Noël de la Grand Place, les estivales salades ont laissé place à des recettes plus chaleureuses ... Nous y voilà, l'hiver s'est doucement invité à Mons et rassemble les familles autour du feu crépitant pendant que les vitrines s'emplissent de cadeaux sous les yeux émerveillés de tous. Tel un hommage à la transmission et au partage en cuisine, la programmation du festival Cuisine d'Hiver est construite à la manière d'une grand-mère qui
apprendrait à ses petits-enfants à cuisiner, narrant ses souvenirs d'enfance, au coin du four, sous une odeur de chocolat, de pommes rôties et de cannelle. Une kermesse gourmande ou des spectacles hilarants et cyniques vous aideront à digérer vos obsessions alimentaires, qu'elles soient sociétales ou plus enfantines. Avant chaque spectacle, délectez vous d'un avant-goût : conférences, tables rondes et dégustations commentées viendront titiller vos esprits tout en aiguisant vos appétits. Traversez l'Atlantique, à la découverte des saveurs du Québec, en l'honneur des soldats canadiens qui ont libéré la ville de Mons il y a 100 ans. Goûtez aux saveurs d'hiver des autres Capitales européennes de la Culture.

Attention... ceux qui ne mangeront pas le soir... seront mangés le lendemain matin ! L'Ogre, ce géant effrayant des contes de fées, souvent dépourvu de toute grâce et se nourrissant de chair fraîche, sème la panique tant par sa cruauté que sa grossièreté. "Bienvenue dans notre dîner presque parfait" C'est ici l'histoire de Sara, une belle ogresse, mangeuse d'homme, et John-John, un grand dadais d'ogre qu'il vaut mieux avoir en photo qu'en pension. Un duo garguantuesque dans une histoire piquante où la bouffe perpétuelle et le glorieux gâchis nous mènent à cette question terrible : dans un monde immoral à quoi sert la morale. Prenez part à un spectacle bavard, passablement injuste mais néanmoins humoristique.
Schedules

On

December 18, 2018

at 20:00
Leave a review about Cuisine D'hiver- Les Ogres :
Horrible

Bad

Average

Good

Excellent
There is no review about Cuisine D'hiver- Les Ogres, be the first to leave one !